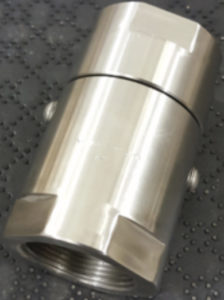 MWS-24 Miner Waterline Inline Swivel
All Stainless Steel, 1000 PSI, With 1 1/2″ FPT Connections
Our specialized miner waterline swivel is manufactured by HPS here in West Virginia.  It is comprised of a double grooved ball bearing housing assembly which allows it to continuously swivel in either direction and minimize miner waterline kinking.  For lubricity and supreme corrosion resistance, we lubricate the components with a water insoluable calcium sulfonate marine grease.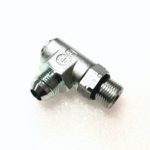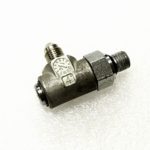 Compact 59 series 90 degree swivels
59UB-8-8 and 59UB-4-4 compact swivels, popular for use on continuous miner head jacks and pan jacks.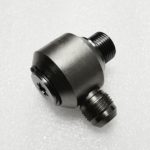 Shortened 59UB series 90 degree swivel
Shortened 59UB-12-12 swivel, for use on roof bolter for drill pot clearance.
Standard 59 Series Adapter Info