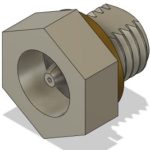 Continuous Miner Grease Take-up Fitting
Complete with bonded seal and leak-proof zerk grease fitting.  Used for grease take-ups on cat pads and trim chains.  Compare to Joy P/N 03069230-126.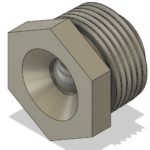 Special made with 1/2″ & 3/4″ NPT threads by HPS, these flush fittings feature an oversized ball check to facilitate the faster filling of gearboxes.

Hydraulically Powered Grease Pump
We can provide a hydraulically powered grease pump suitable for use with 95/5 water oil emulsion commonly used in longwall mining.  A pressure reducing valve is provided to reduce the longwall face pressure as well as a flow control valve to control pump speed.  The pump shown at left is configured for a 120 lb. grease drum.
High performance industrial grease conveyance accessories